Cheer Boys!! (Japanese チア男子!! Chia Danshi!!) was adapted twice into manga adaptions, by manga artists Ayaka Matsumoto and Kenichi Kondō respectively.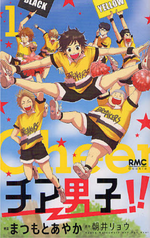 Cheer Boys!!
Edit
See the volumes list
The first manga adaptation, drawn by Ayaka Matsumoto, was serialized in one of Shueisha's magazines, Cookie, from 25 June 2011 to 26 March 2013. The various chapters were collected in four volumes in a tankōbon format, which were published from March 2012 to and in December 2013.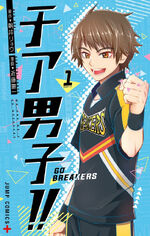 Cheer Boys!! Go Breakers
Edit
See the volumes list
A second manga adaptation, edited by Kenichi Kondō, is titled Cheer Danshi !! Go Breakers (チア男子!! - GO BREAKERS- Chia Danshi !! Go Breakers) , It began serialization for the Shonen Jump+ app in starting on April 5, 2016 . A tankōbon volume was published in July 4, 2016 .
Ad blocker interference detected!
Wikia is a free-to-use site that makes money from advertising. We have a modified experience for viewers using ad blockers

Wikia is not accessible if you've made further modifications. Remove the custom ad blocker rule(s) and the page will load as expected.